In so Plattenverteilern zu sein hat sowohl seine Vor- als auch Nachteile. Einerseits wird einem deutlich, was für Müll so auf die breite Masse losgelassen wird, andererseits hört man gute Musik zuerst. Neben den auf Grund von allgemeiner Relevanz zu besprechenden Platten sucht man sich aus der Schar der Veröffentlichungen interessante Stücke raus und trifft mit etwas Glück auf echte Perlen, die bisher nicht die Aufmerksamkeit bekommen, die ihnen gebührt und hat als Musikjournalist die große Ehre, unbekannte Bands zu pushen und ihnen damit zu relativer Bekanntheit zu verhelfen. Nice.
Der Name KAMIKAZE GIRLS tauchte also vor kurzem in einer dieser Mailfluten auf und, nunja, "Girls" - triggered. Dass die Bezeichnung des weiblichen Geschlechts nicht unbedingt auf ebendieses Bandgefüge hindeuten muss, machte nicht zuletzt erst die GIRL BAND aus Dublin klar. Hier traf der Name allerdings direkt ins Schwarze und aus meiner Affinität zu Female-Fronted-Bands mache ich nun auch kein wirkliches Geheimnis. Guck.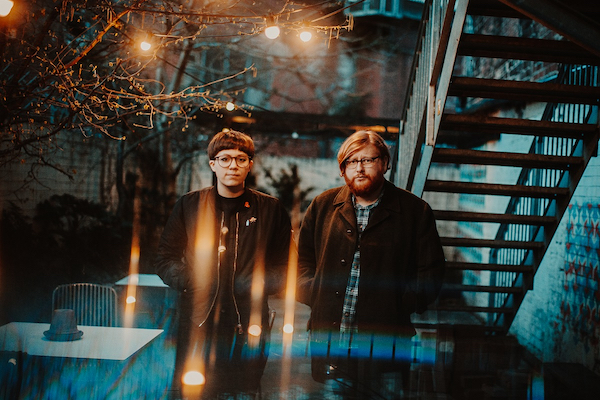 Das nach einer japanischen Komödie benannte Duo aus Leeds besteht aus Drummer Connor Dawson und Gitarristin/Sängerin Lucinda Livingstone. Das Zwei-Personen-Bands momentan der absolute Shit sind muss an anderer Stelle noch einmal besonders beleuchtet werden. Tracks die nach einer beliebigen europäischen Hauptstadt benannt werden übrigens auch.
Trotz dieser zeitgemäßen Bandkonstellation, dem DIY-Charakter und dem LoFi-Sound ihres Debuts klingen die KAMIKAZE GIRLS nur bedingt nach derzeit angesagten Garagenrock ala GURR und Konsorten, auch wenn die erste Single "Berlin" sowohl mit der Titelbezeichnung als auch im ersten Hördurchlauf darauf schließen lässt. Im gesamten Albumkontext gehört, offenbart gerade dieser Song eine unheimlich intensive melancholische Grundstimmung, so als würden sich zur bandeigenen Punkattutüde zusätzlich noch MEWITHOUTYOU mit MY BLOODY VALENTINE paaren.
Mit "One Young Man" wurde ein perfekter Opener für das Album gewählt. CHROMATICS-Erinnerungen, doomiges Tempo, tiefgestimmte Gitarre und 80ies-Spirit gehen über in das bereits erwähnte "Berlin". Die allgegenwärtigen Shoegazegitarren, der LoFi-Sound und Post-Punk-Style durchzieht "Seafoam" bis zum Schluss. NEW ORDER wären stolz.
Bereits auf der EP "Sad" besang Lucinda Livingstone Ängste, Depression und Traurigkeit. An dieser Thematik hat sich auch auf "Seafoam" nicht viel geändert, wobei mit dem abschließenden Song "I Don´t Want To Be Sad Forever" Aufbruchstimmung und mit einer leichten Briese Hoffnung eingschlagen wird:
"We Don´t Need More Guns/We need Lovers."
"Seafoam" ist kein technisch anspruchsvolles Album. Es überzeugt mit seinem direkten Songwriting, den authentisch und ehrlichen Texten und vor allem mit einer Grundstimmung, welche von Hördurchlauf zu Hördurchlauf für regelmäßige Gänsehautmomente sorgt. Mit "KG Goes To The Pub" haben die KAMIKAZE GIRLS dazu den inoffiziellen Nachfolger zu PETROL GIRLS´ letztjähriger Feministinnen- und Body-Positivity-Hymne "Touch Me Again" in petto.
2017 ist bisher ein ausgezeichnetes Jahr für Female-Fronted-Bands. Nach BRUTUS, BATHSHEBA, KING WOMAN, DIET CIG und zuletzt GIRLPOOL reihen sich KAMIKAZE GIRLS mit ihrem Debut "Seafom" in diese Reihe spannender neuer Bands ein und gehören zugleich zu den besten Newcomern des Jahres.